What is great and extremely valuable about Jesolo is this seaside resort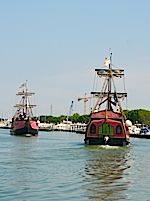 manages to offer complete vacations to all holidaymakers who decide to head for this Italian destination. Jesolo has the rare quality of being able to blend into a single formula the generous contribution of nature, the perspective of never ending idleness while sunbathing on one of the finest blue flagged beaches in Italy, the amazing sports, shopping and nightlife opportunities and a highly modern tourist infrastructure able to provide comfort and luxury in terms of accommodation and eating venues. A tourist paradise proper, Jesolo has lived and will always live up to its visitors' expectations. A further feature enhancing the tourist rating of Jesolo is its proximity to Venice, which is a benefit both as to accessibility and as to the opportunity given to visitors to tick off two major tourist hotspots in an extremely timely and convenient manner.
Jesolo Short History
The tourist identity of Jesolo has begun to delineate as from late 19th century, first slowly and, subsequently to World War One and, in particular, after World War Two, significantly and visibly faster, when the neighboring people, such as the Venetians and the Lombards, started to ascertain the quality and the tourist potential of Jesolo. From the first place, what made investors so eager to develop tourism in Jesolo was the 15 kilometers long beach (Lido di Jesolo) and the fortunate alliance between the gifts of the sea and the presence of the 3 kilometer bordering pine forest (Pineta). What is Jesolo at present is virtually the mere capitalization of the inherent potential of the place.
Jesolo Accommodation
Accommodation solutions come in all shapes in Jesolo, as far as prices are concerned, so budget travelers and those who afford to splurge alike are able to identify what suits them best. Jesolo is fitted with camping sites, as well as with four star establishments – hotels and residences – the only concern tourists should mind regarding the fulfillment of their expectations. Thus, for an easier access to the velvety stretches of sand, tourists should opt for beachfront establishments, whereas those in search of a tranquil vacation should spot the venues renowned for their nighttime hustle and choose accommodation solutions according to their objectives.
Italian cuisine at Jesolo
The main highlights of Jesolo with respect to cuisine refer to its solid tradition in cooking fish and seafood in general and to its knack of knowing how to make the best of the gifts of the land so proficiently and artfully absorbed as gastronomic resource by a particularly rapidly increasing tourism branch in Jesolo, namely, agritourism. So, either in search of lighter snacks or featuring a penchant for hearty meals, tourists have plenty of alternatives to choose from. There is no gastronomic identity of Jesolo in terms of locally specific dishes; yet, what is truly characteristic of this Italian resort is the will to pour all taste, potency of flavors and even daintiness into whatever is put forward as culinary offer. Yet, there is one thing which is able to provide an unmatched label of Jesolo: its oenological pride yielded by the production of a range of high quality wines.
Jesolo Aqualandia and Jesolo Golf Club
Besides sunbathing as such – which, for that matter, goes without saying in a resort like Jesolo – tourists are invited to sample some of the plethora of leisure opportunities available in Jesolo. Some of the most notable opportunities of this kind refer to, for instance, the Jesolo Golf Club, a genuine resort fully fitted with all facilities and equipments necessary, to Aqualandia, advisable for both children and grownups, to Jolly Roger – adults and children alike are welcomed to enjoy the experience of metamorphosing into a pirate, though children are more likely to get a thrill out of this opportunity – and to Gommapiuma Inflatables Park – children only are invited to enjoy the playing structures of this complex.
Jesolo Shopping and Nightlife
There are two more features which single Jesolo out from the plethora of Italian seaside resorts, namely, its shopping and nightlife opportunities. Thus, shopping venues unwind along the world's largest pedestrian area, a 13 kilometers long avenue stretching from the center of the old side of Jesolo to the beach of the resort. One can only imagine the rich offer of products displayed in such a shoppers' paradise. With respect to nightlife, Jesolo welcomes its tourists with the most inviting range of discos and bars where drinking, dancing and listening to music offer the most exhilarating experiences. Such opportunities are complemented in Jesolo by the presence of the Jesolo Gaming Hall Venice Casino, popular for the obvious reasons, and by the Jesolandia Amusement Park, the program of which is extended until late at night.
Hotels in Jesolo
Go to top
Hotels Booking
The best offers and prices for your holiday!
Residences in Jesolo
Go to top
Campings in Jesolo
Go to top