Praised by the poets around the world who were inspired by the majestic and calm beauty of its canals and bridges, Venice is a city which has always fascinated the mainstream tourist and the romantic minds alike. Venice remains not only one of the top destinations in Italy, but at global scale also. Its reputation in this respect is grounded in both the historical and cultural background of the city, as well as in the fact it strikes by the frailty of its infrastructure and, at the same time, by its resilience to crush under the pressure of its overwhelming popularity.
Serene and almost visceral simultaneously, Venice remains a city of contrasts: a hub of art and culture and an immense shopping paradise, a place of effervescent nightlife and of peaceful daytime gondola tours, a city of masks the genuine face of which can only be discovered by the tourist who chooses to make the living experience of La Serenissima (as Lord Byron called Venice in its poems).
Replete with tens of museums and grandiose palaces, chic restaurants and cafes, glorious churches and reputed theaters, Venice gently rocks its huge heavy patrimony in the elegant and delicate web of canals and bridges.
How to get from Jesolo to Venice
Venice is located some 40 kilometers west of Jesolo. This short distance alone is stimulating enough for holidaymakers of Jesolo to make a daytrip to Venice. It's true Venice, by force of its density of attractions, can not be searched out in depth to the full extent of its opportunities in a single day. However, a vacation spent in Jesolo can hardly be deemed complete without a trip to Venice.
By bus
The most convenient way to get to La Serenissima is to take the bus. The buses operated by ATVO are useful in this respect. In Jesolo, the bus terminal is located in Piazza Drago, and the finishing line in Venice is in Piazzale Roma. In order to learn about the bus schedule, seasonal fluctuations of the schedule, ticket prices and the like, follow the indications below:
Name:

ATVO

Address:

8, Piazza IV Novembre, San Dona di Piave, Italy

Telephone:

0039 0421 5944

Fax:

0039 0421 594534

Email:

Website:
By boat
Another way to get to Venice is to make a boat trip. In order to do that, visitors must first get to Punta Sabbioni, which is located some 15 kilometers west of Lido di Jesolo. The buses operated by ATVO are, again, at hand to this purpose. From Punta Sabbioni, tourists must rely on the speedboats (motonave) operated by ACTV. In order to find the most convenient solution, follow the indications below:
Name:

ACTV

Address:

32, Isola Nova del Tronchetto, 30135, Venice, Italy

Telephone:

0039 0412 424

Website:
By train
Despite the fact getting from Jesolo to Venice by train is not the most popular way to cover the distance between the two destinations, this remains, in fact, a possible alternative. Tourists must first get to San Dona di Piave (which is the closest train station). To do that, the buses operated by ATVO are at hand. Then, visitors must take a train heading for Santa Lucia after crossing Mestre. Please visit Trenitalia in order to learn more about the trains running between San Dona di Piave and Santa Lucia.
Tourist Information Office of Venice
In order to learn all there is to know about the tourist essentials of Venice, visitors are referred to the information office which is located in the historical center of the city, in the so called Castello. This office is able to provide information on the main tourist attractions, public transport, accommodation solutions, events of special tourist interest and the like.
Name:

Tourist Information Office of Venice (Azienda di Promozione Turistica)

Address:

5050, Castello, 30122, Venice, Italy,

Telephone:

0039 0415 298711

Fax:

0039 0415 230399

Email:

Website: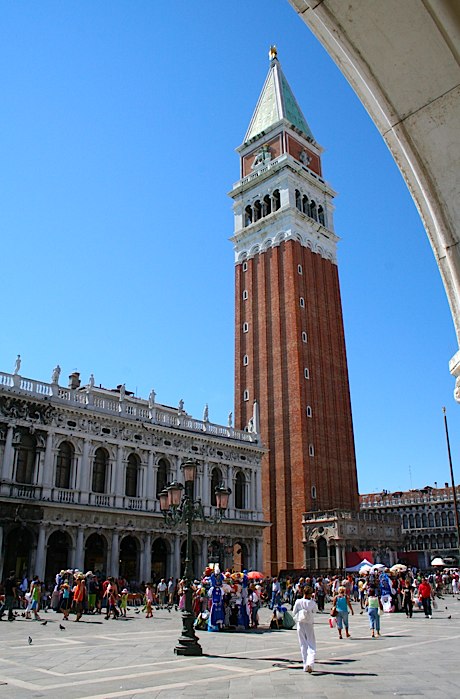 Venice - Piazza San Marco